In Japanese: 陸軍中野学校 (Rikugun Nakano Gakkō)
(4-22 Nakano, Nakano Ward, Tokyo, Japan

)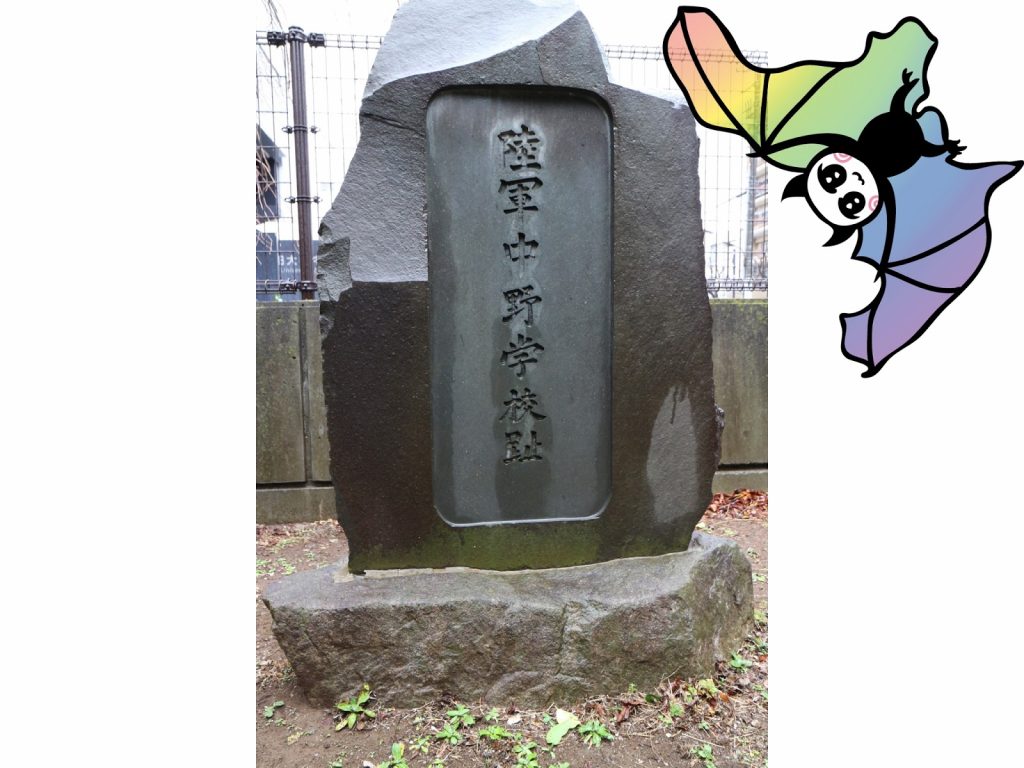 Nakano School, an Imperial Japanese Army academy for elite intelligence officers, was in the north of Nakano railway station from 1939 to 1945. Including students at its predecessor and successor, more than 2,000 officers were trained in seven years through the end of World War II, according to "Nihonshi Daijiten" [Japanese History Encyclopedia] of publishing house Heibonsha.
Not much is known about the School because its existence and nature were kept secret throughout the war.
The School taught the skills of espionage, maneuvers, counter-intelligence, propaganda and vandalization, according to Hashimoto[1].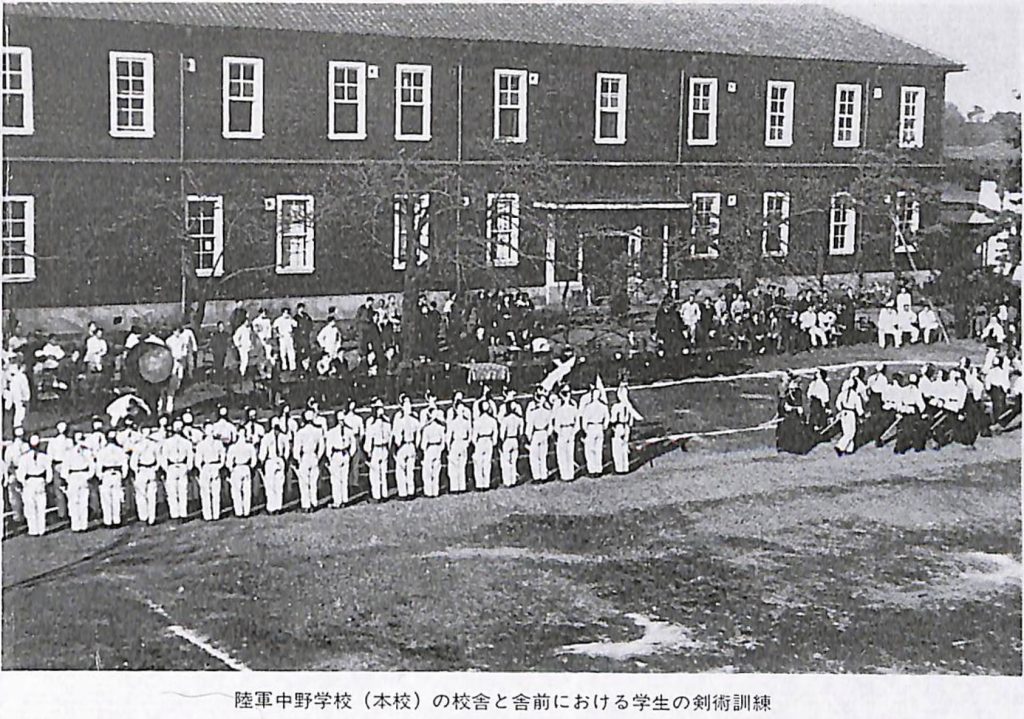 Special forces from the School were dispatched during the war to such islands as Iwoto, Okinawa, Hachijo, Taiwan and ones in the Philippines.
The School covered areas north of JR Nakano Station, including what is now the Tokyo Metropolitan Police Hospital and part of Nakano Shiki no Mori Park.
(Slideshow – Blue and red lines denote the School site and buildings, respectively, by adopting figures in Hashimoto[1, p. 162].)
No building of the School remains now and there is just a stone memorial for the academy in one corner of the hospital.
(An English translation of the monument inscription)
In recognition of growing tension in the international situation and intensifying secret operations by great powers, the military set up a logistics training institute in Kudan in July 1938, moved it to this place in April the following year and renamed it the Imperial Japanese Army Nakano School. During the six years until it was relocated to Tomioka, Gunma Prefecture in April 1945, it gathered together officers strictly screened and selected from all the forces and educated them on intelligence operations and they also conducted research on secret operations.
To enhance the spirit of its establishment and meet its heavy responsibility, the school particularly put importance on spirit cultivation. As its center, a Nankōsha shrine was established where students always trained their souls repeatedly. The place of this stone monument is where the shrine was located.
Written by Kameji Fukumoto, the first manager of the Imperial Japanese Army Nakano School
Established by the Nakano alma mater society
(Note: Nankōsha shrines were dedicated to Kusunoki Masashige, the faithful champion of Emperor Go-Daigo in the 14th-century. Japan's State Shintoism worshipped him as a war god. The Imperial Japan used the native folk Shintoism as an ideological foundation for the enshrinement of the war dead in general.)
國際情勢の緊迫と列强秘密戰の激化に鑑み軍は昭和十三年七月九段に後方勤務要員養成所を臨設翌年四月現在地に移設し昭和十五年八月これを陸軍中野学校と改称した昭和二十年四月群馬県富岡町に移轉するまで六星霜全軍より嚴重に審査簡拔せる要員を集め情報勤務教育を施すと共に國軍高度の秘密戰硏究に當った
創設の精神を發揚し負荷の重責を果すため本校は特に精神の陶冶を重視しその中心として楠公社を建立学生は夙夜この社頭に魂の修練を重ねた此の碑の立つ所即ちその跡地である
陸軍中野学校初代幹事福本亀治謹書
中野校友會 建之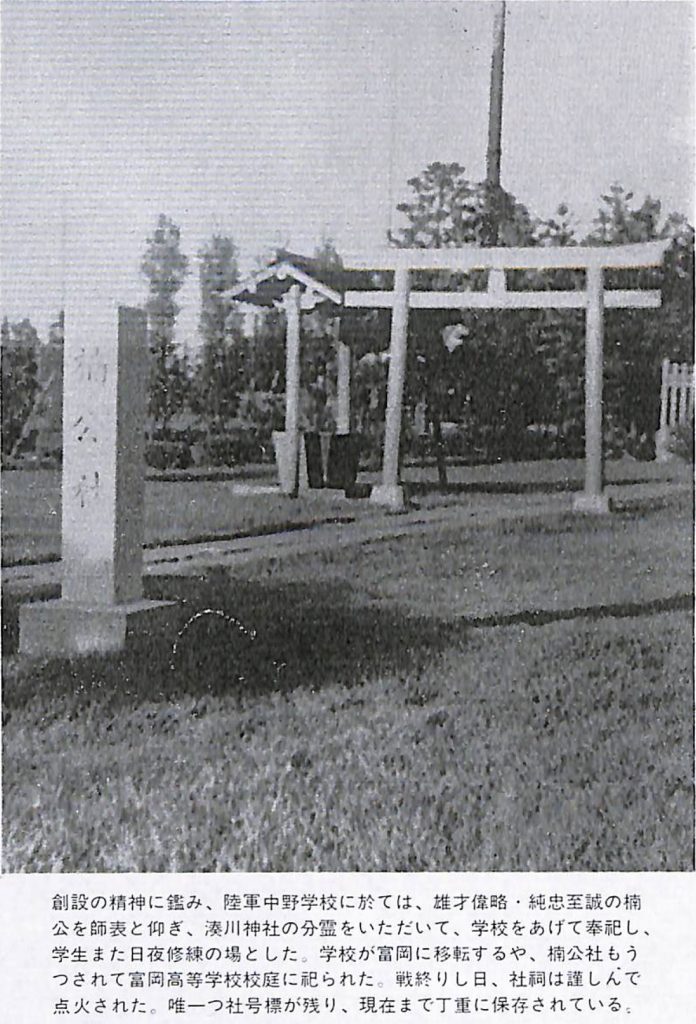 (How to get to the Nakano School memorial

)
References
Hashimoto Kiichi 橋本喜一, 『中野区内の文化財研究:江古田の獅子舞ほか数篇』 [A Study of Cultural Properties in Nakano – Egota no Shishi-mai etc.], 東京:橋本喜一, 1979, in the possession of Nakano City Library.
The Nakano alma mater society (Eds.) 中野校友会 編, 『陸軍中野学校』 [Imperial Japanese Army Nakano School], 東京:中野校友会, 1978, in the possession of National Diet Library (NDL Bibliographic ID 000001373267).