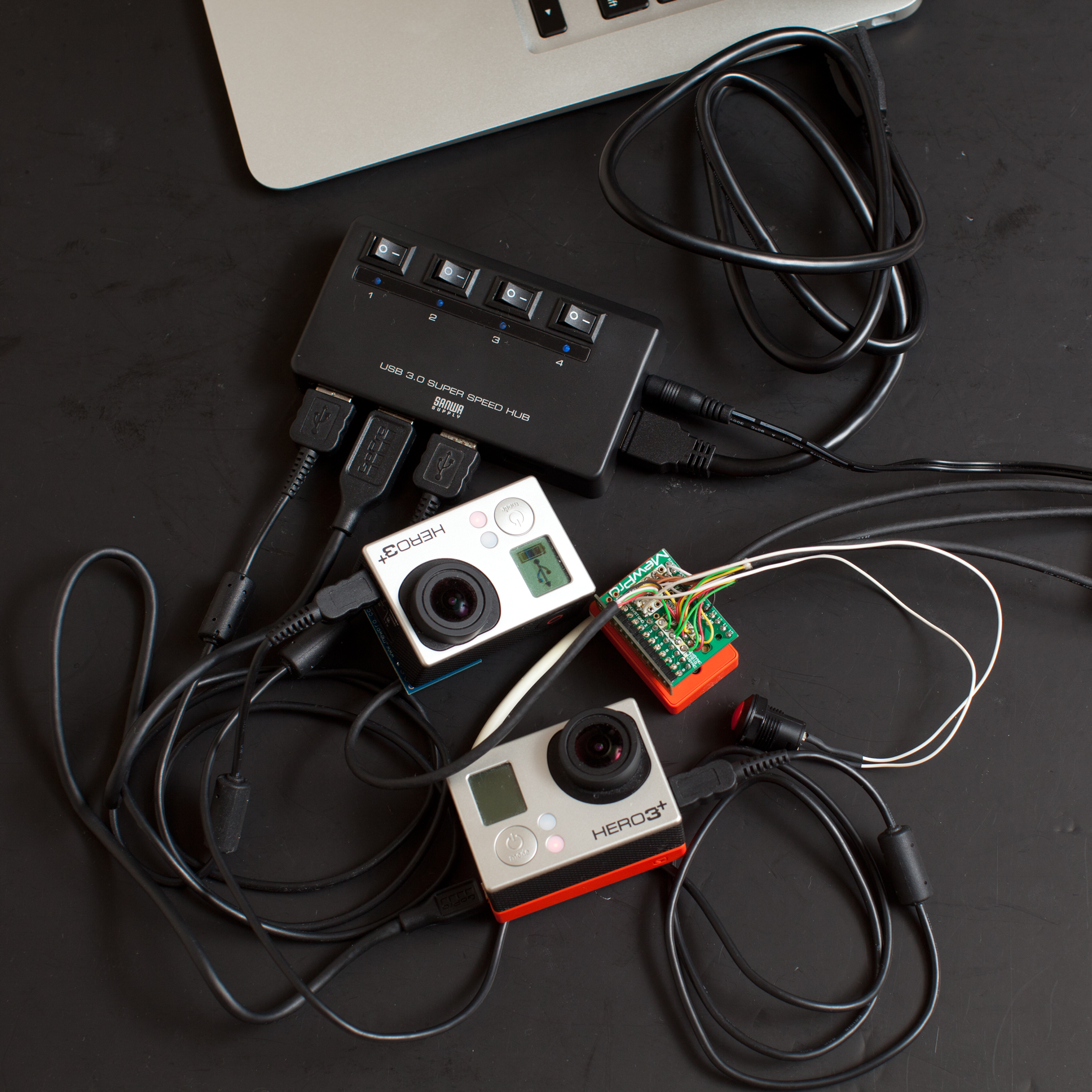 By installing a slide switch or an alternate push button to the reset line of our genlock system, GoPro's microSDs get easily accessible from PC through the USB on the side.
The customer in Germany recently told us that they succeeded in mounting GoPro's microSDs without detaching MewPros nor soldering additional wires. They've got two key ideas: 1. If the reset line is kept LOW then MewPros don't logically exist on Herobus; 2. If Dual Hero bacpac (or MewPro) is attached to Herobus then the side USB cannot be used to mount GoPro's microSD from PC.
We misunderstood that the I2C command "UM0" enabled access to internal microSD from the side USB. The truth is the command only disables access from the back USB that have been enabled by "UM2", and resumes the 3D mode.
The following is a demo to mount all the microSDs in a sample rig.
Example Session
The rig is in a single-dongle configuration with one master camera and, for simplicity sake, only one slave camera. All cameras and the Dual Hero bacpac are powered/charged by a self-powered USB 2.0 hub. An alternate push button switch is installed on the reset line (the red part in the photos below. When the button is pushed/latched its red rod is seen shorter).
Step 0: Let's start this session with normal charging state: Master camera is OFF; Slave camera(s) OFF; USB hub's power is ON; Reset line HIGH, i.e., reset is OFF.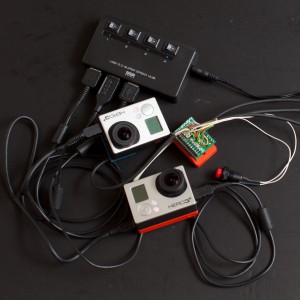 Step 1: Push the master camera's power button. Then the system enters in 3D shooting state.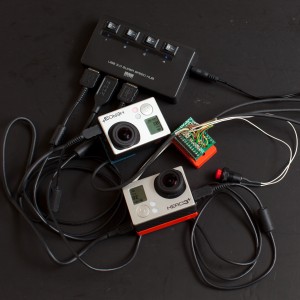 Step 2: Push and hold the reset switch to keep the reset line LOW. And temporally detach power from the USB hub. Then the master camera becomes automatically OFF because the peer Dongle has lost its power.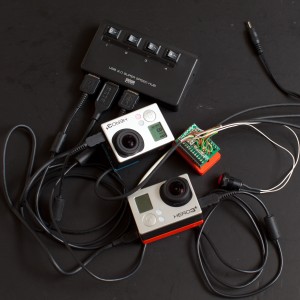 Step 3: Plug a USB cable to PC and hub. And power on the USB hub.
Then the slave camera(s) become(s) hard disk mode and they are accessible from PC simultaneously.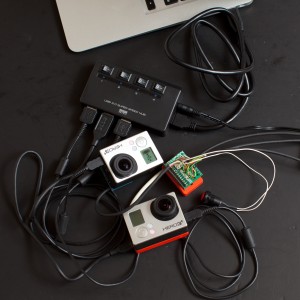 Step 4: After downloading video/image data from slave GoPros unmount these disks on PC. And push release the reset line.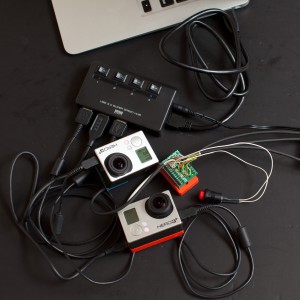 Step 5: We have downloaded data from all the cameras but the master. Now push the master camera's power button again. Then we will be able to do the job.