Today, we succeeded in feeding the external frame sync signal to GoPro Hero 3+ Black. So we proudly announce that the next version of MewPro application will be with (or without) genlock.
Radosław Gezella, who is working with about 30 GoPros (!) in a rig, wrote us an e-mail about 10 days ago. It described that video frame sync signal is located at pin 21, which is in our pin-ordering "pin 10", in Herobus of Dual Hero bacpac. And also he told us that this genlock signal is the simple pulse wave of period equal to the frame time and of duration 5μs.
Based on his findings we finally got MewPro worked with genlock (In order to do some reverse-engineering experiments we needed to purchase an original Dual Hero and to make a hardware emulator of GoPro Hero 3+ Black). Related source codes and schematics will be published in this site soon. Fortunately, no modification to existing MewPro hardware is required to sync many GoPros with genlock.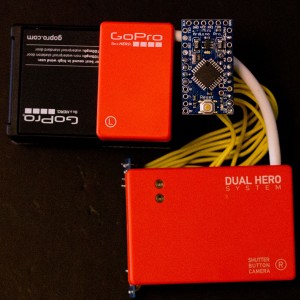 Update: Hero 3+ Black needs another signal for genlock-ing. See the next post.