Building the first prototype of MewPro Genlock Dongle for GoPro Hero 3+ Black is finished. Our shop will sell it after PCB is ready.
As stated in our previous post, 3D video/photo captures by GoPro are very strict and accurate: They require genlock signals of not only VSYNC for every frame but also HSYNC for every scanning line. However, for slow microprocessors like Arduino it is impossible to generate high-frequency HSYNC, so we decided to use the original Dual Hero System as a function generator.
The following is a photo of the prototype we made: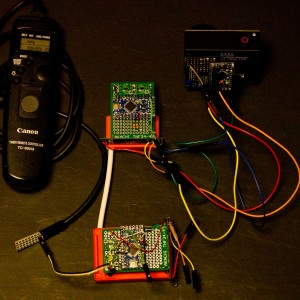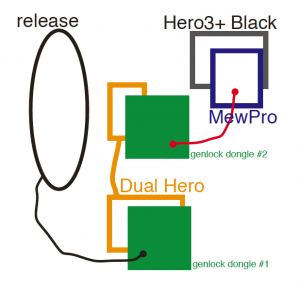 Two green boards are "MewPro Genlock Dongle" prototypes. They are attached to master/slave bacpacs of a GoPro Dual Hero System (two orange boxes connected by a white cable). The master MewPro Genlock Dongle has a wired shutter release connected. The slave Dongle has a GoPro Hero 3+ Black with MewPro connected. The latter connection consists of four signals (and GND), namely, RS-232(Dongle Tx -> MewPro Rx), HSYNC, VSYNC, TRIG.
MewPro Genlock Dongle emulates GoPro camera, and as a result we succeeded in getting these signals. The signals can be fed to as many numbers of GoPros with MewPro as you like. The settings of master camera will be automatically copied to of these slave cameras by using RS-232, as original Dual Hero is doing it using I2C.
Schematics and source code for MewPro Genlock Dongle will be published in this blog when the PCB is ready.