Two new products, MewPro Cable for genlocking GoPro and MewPro 2 for general purposes are available in our shop.
MewPro Cable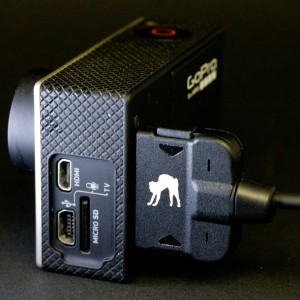 MewPro Cable is designed for genlocking GoPro Hero 3+ Black cameras. It has a microcontroller ATtiny1634 inside the plug enclosure and controls camera into 3D capture mode as easy as just plug the connector into Herobus socket. For genlock purpose it is interchangeable to our previous product "MewPro 1 w/ SMD parts, Herobus connector and Arduino Pro Mini compatible (soldered)".
As there were many requests from our customers that if there were a plug-and-play genlock solution, now we sell bare plugs as well as fully assembled/soldered, plug-and-play packs with cables and Dongle(s). But we should say soldering a lot of wires to small plugs and dongle is extremely weary task. So if you order a plug-and-play pack please allow us minimum of 4 days before ship.
Product page: MewPro Cable
An article, introduction to MewPro Cable is to appear soon.
MewPro 2

MewPro 2 uses the microcontroller ATtiny1634 and is a redesigned version of MewPro 1 that used in conjunction with Arduino Pro Mini. All signals of Herobus and the microprocessor are broken out to 2.54mm pitch pins for hand-soldering convenience. ATtiny1634 can act as complete I2C slave, hence the new board comes without I2C EEPROM that is emulated.
Product page: MewPro 2
An article, introduction to MewPro 2 is to appear soon.
Compare MewPro Specs
The following is the comparison table of our MewPro line of products: